A few things to know about the printing process...
This printing technique uses special printing plates. The inked image is moved from the plate to a rubber blanket, and then finally to the printing surface. It's a very cost-effective way to produce large volumes of prints that are consistently high quality, enabling our business to give clients very competitive rates while providing excellent service.

The first step or the prepress starts with a hard copy or a digital file. A blueprint is produced out of this hard copy or digital file. This blueprint serves as a negative that will be transferred to the printing plates in much the same way as photographs are developed.

Optional finishes may be added to the printed material to either enhance or protect it. Examples of finishes are varnishing, embossing, foil stamping and lamination.
---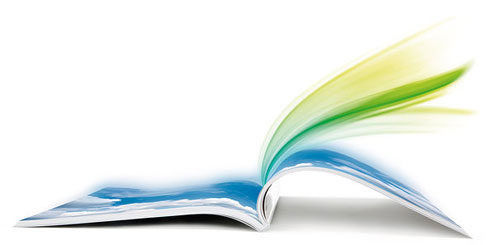 Process Color Printing: CMYK
CMYK refers to the printing inks used in four-color process printing. C (Cyan), M (Magenta), Y (Yellow) and K (Black) are the colors used to produce the full-color photographs and designs. These colors can be combined and printed to create a wide number of other colors. Process color printing is mostly used to print publications or other printed materials that require full-color photographs or multi-color graphics.
Spot Color Printing
If a particular color is to be matched in a printed piece or if the project has a limited budget, spot color printing is something to consider. The most common of the spot color standards is the Pantone Matching System (PMS). The color range is not as wide compared to process color printing, but the prints come out with a wonderful vibrancy. This printing process is mostly used for materials that don't require full color such as business cards, stationery, and newspapers. Spot colors can also be used alongside process (CMYK) colors for greater flexibility.
---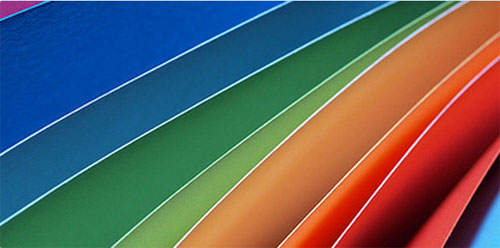 Coated paper has a smooth finish and is not very porous. As a result, it doesn't soak up ink. Instead, ink sits on the surface, which means it takes longer for the ink to dry. This type of paper is not a good surface to write on. However, since the ink does not bleed into coated paper, details remain sharp and fine text holds up well.

Uncoated paper has a rougher and more natural feel. It tends to be more porous, therefore, ink dries more quickly. It's ideal for printed pieces that people need to write on. Common examples of printed materials that use uncoated paper are newspapers and office forms.